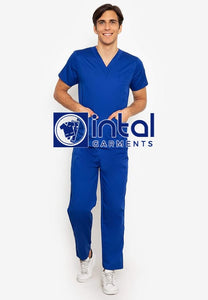 High quality made, fashionable, affordable and with biggest assortment of SCRUB SUIT uniform for Doctors, Nurses, Caregivers, Therapists, Medical & Dental Staffs, Midwives and other Healthcare Professionals.
SCRUB SUIT Set 01A by INTAL GARMENTS.
EXCEPTIONAL QUALITY MADE - made of Lacoste Polycotton Fabric that is not see through. Neat and reinforced seams and stitching for extra durability.
BIGGEST ASSORTMENT - Available colors in Blue, Green, Pink, Violet, Black, Gray, White, Yellow, Maroon and many others. Available also in plain, two-tone or tricolors.
WIDE SIZE SELECTION - Available sizes from XXS to 3XL. Kindly refer to below size chart for reference.
COMFORTABLE TO WEAR – Soft fabric, skin-friendly, breathable and designed with a functional drawstring and elastic band for a great fit at the hips. Comes with lot of pockets for convenient storage of tools, phone and personal belongings while at work.
FASHIONABLE DESIGNS - regularly releasing new designs as preferred by healthcare professionals.
AFFORDABLE as we're the manufacturer – hence we also accept made to order and bulk ordering from hospitals, medical centers and other wellness institutions with discounts.
Feel free to send us message thru chat for other inquiries. 
Thank you in advance and stay safe!!!
#INTALGARMENTS #SCRUBSUITS #ESSENTIAL #PPE #DOCTOR #NURSE #CAREGIVER #THERAPIST #SCRUBSUIT #SCRUBS #INTAL #SHOPEE #LAZADA #ZALORA #SHOPIFY